Thursday, March 31, 2005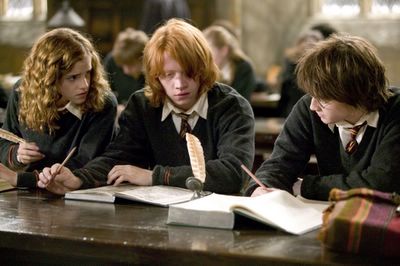 I know, I've been in a photoblog mood (you know, posting a lot of images, not writing a lot), but hey! It's been a busy week. So, now you're looking at a picture from the upcoming movie
Harry Potter and the Goblet of Fire
. Yes. Our kids are all grown up *sob*
The movie's been directed by Mike Newell (
Four weddings and a funeral, Pushing Tin
), a weird choice if you ask me, but I'll be happy if it's at least as good and dark as the last one directed by our very own Mexican Director, Alfonso Cuaron.
So, what's next? We'll only have to wait for JK Rowling's new book,
Harry Potter and the Half-Blood Prince
, that will be in bookstores on July 16 (don't worry, that's only 105 days, 23 hours, 50 minutes). By the way, it never ceases to amaze me the euphoria and impact these books are having on society. A book that will print, 10.4 Million copies, just for starters? WHOAA... It's still impressive how these books just make EVERYONE read. Now, THAT'S magic.