Monday, March 07, 2005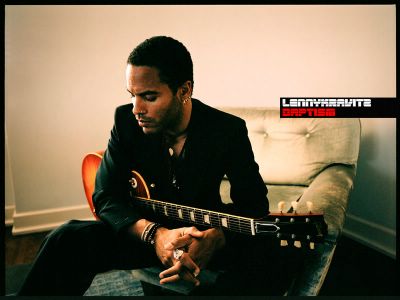 Welcome to Numbtown the place where nothing interesting happens! Yet, Sunday was an exception. Once in a while international artists (and by that I mean singers/composers/rockstars) decide to come to our little town, and this time it was
Lenny Kravitz
's turn.
The concert started at 9:30. Ms. Mysterious and her loyal friends were sitting far, far, far away from the stage. Yes, we're poor. Yes, we're also cheap. The sky was covered with dark clouds and a cold, wet breeze that accomplished to get our butts wet. Yes, we were sitting on the lawn. Yes, I already told you. We're poor and cheap. May I continue? Thank you.
So, after some nachos, popcorn and a bite from Zdex's hamburger, and some really bad background music, the lights went off. Mr. Rockstar was on stage. Be he didn't star right away!! No, siree! He saw everyone...Took his time...Enjoyed the applause and the screaming. And THEN he and his band started playing.
I've never been a big Lenny Kravitz fan. Yes, I own a couple of CD's but I really HATE some of his songs. I think his last album is quite mediocre. But to watch him perform...Man, that's a whole new experience. He's what a fancy rockstar should be: Arrogant, sexy and noisy. Everything he says it's according to a script. Every word, every look, every move was studied and prepared before a mirror to make his followers die of envy and adore him like a Greek god. And he succeeds, my dear sinners. When he performs, he's a god among insects.
What about the music? I was really impressed by his musicians virtuosism. The band was composed by two guitar players (including Lenny's), bass, drums, keyboards, three backing vocals, and a metal section (two saxs and one trombone).
He started with
Minister of Rock n' roll
, from his latest album
"Baptism
", and continued with
"Live"
from his album
"5
". Then I have no idea if he started jamming or if it was an old song he was playing but man, it was so good! There was a smooth, funky atmosphere that combined with some good gospel-like backing vocals made you disappear into a different dimension, where only you and music existed. It felt really good. And after that I decided that Lenny was not as crappy as I sometimes thought he was. He has really good songs, (besides
"Fly away", "Always on the run", "It ain't over till it's over"
and
"rock n'roll is dead
"). I thing songs such as
I belong to you, Live, It's your life, Straight cold player
(from 5- the one album that I really, really know) or the new
"Lady"
are pretty good, and show Lenny Kravitz capacity to do powerful, substantial melodies. Because let's face it, sometimes the guy just finds 2 chords and uses them the WHOLE song.
Anyway, the concert went on, at times it was not so interesting (I really can't stand songs such as
Dig in
and
Again
- Yeap, I was the only one that was screaming out of pain in those songs), but he finished the show on a high note:
Are you gonna go my way
. It was just what Ms. Mysterious needed. To jump like chipmunk and forget about the world around her.
So yeah, Ms. Mysterious had a good time, and decided that Lenny is definitely not perfect, but still, he has a good show and some good songs to pay attention to. And most important of all:
The SOB is really SEXY. Damn him.